Scale your VC operations with modern fund & portfolio management software
Enjoy a 15% discount exclusively for SVCA members*
Trusted by leading asset managers
Powerful investment insights with a few clicks of a button
Implementing the right fund and portfolio management software is a game-changer for scaling up your VC operations, turning overwhelming amounts of raw data into clear, structured insights ensuring you can continue to protect and grow your investments.
Quantium provides an effortless solution that simplifies data organization, performance analytics and reporting processes where information collection, storage and analysis is streamlined through a powerful data engine.
What's included
Whether you're a newly-minted VC with just 1-2 funds or  a veteran investor with 100+ portfolio companies to monitor, we can help you optimise your data management and provide exceptional investor servicing.
Portfolio management features
Fund management features
Quantium powers some of the most prominent FOF, private equity and venture capital firms, with over $50 billion AUM on our platform globally.
Designed by investors, for investors
Quantium's suite of solutions is designed for private markets professionals across many different firm types, teams and functions, to optimise fund management, portfolio management and investor servicing.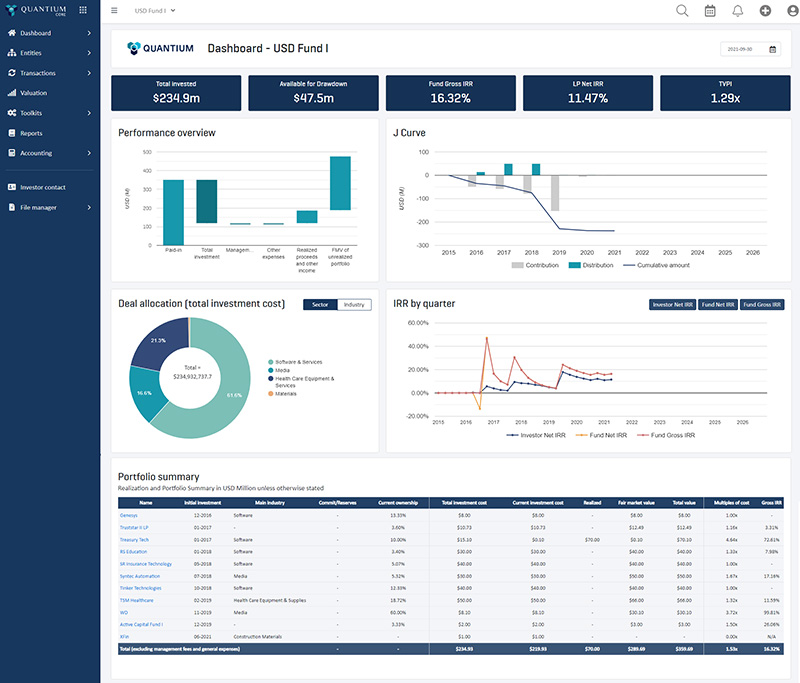 *Terms & Conditions: Exclusive SVCA discount is applicable to standard pricing and not to be used with other discounts, for new clients that sign up for Quantium's services from July 2022 onwards.
.